Rome is one of the world's most fantastic cities for art, culture, history and cuisine, but it seems like Milan gets all the fashion attention in Italy. Well, if you find yourself in Rome, rest assured that there is plenty of outstanding shopping for the fashion-forward traveller. Follow this guide for the best of high fashion in Rome.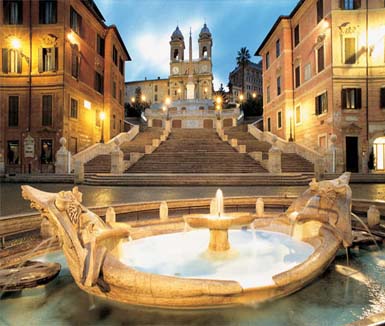 The Spanish Steps: In Rome, much of the luxury designer shopping is arranged in a three pronged formation called the Trident (made up of the streets Via del Corso, Via del Babuino and Via Ripetta – all of which lead to the Piazza del Popolo.) For the high-fashion-minded shopper, it's straight to Via del Babuina where you will find the flagship stores of many of the world's top brands. Check out the little connecting side streets to peruse independent shops that carry high quality merchandise and are famous for their window displays. You may be dodging tourists, but this part of town is definitely ground zero for the world's finest fashion.
Piazza Navona and the Pantheon: This part of town is familiar to tourists because the streets are lined with towering monuments of the ancient world and Renaissance churches, but between these cultural tourist magnets the intrepid shopper can find unique small boutique shops that carry an eclectic array of fashions and accessories next to vintage shops, antiques stores and book sellers. Don't miss SBU, Rome's hippest jeans shop on Via di San Pantaleo.
Campo de' Fiori: This bustling square hosts a fresh produce market every morning and in the evenings the nightlife is hopping. For shoppers this district offers small craft shops tucked into narrow Medieval streets – browse the furniture designers, antique shops, ceramics stores, and quirky housewares. You will also find hidden gems like Borini, a women's shoe store that offers a huge range of high quality leather shoes for unthinkable discounts (just don't be put off by its unassuming appearance).
Fashion Week: Even though it's not as fashion-famous as Milan, Rome still has a pretty influential bi-annual fashion week called Alta Moda Alta Roma. The old and well-established (and some new) fashion houses of Italy take this as an opportunity to connect with international talent and opportunities while buyers, celebrities, journalists and socialites look on for the next season's trends. Even if you can't get a seat by the runway for a designer show, the city will be alive with fashion, designers and taste-makers, so go style hunting around the city and see which style icons and avant garde fashions you can find.