Ah, Capri! A radiant gem nestled in Italy's Tyrrhenian Sea, her beauty is the stuff of legend, her charm woven from the loom of bygone eras, and her allure a siren call to all who yearn for an invigorating dash of adventure. Encrusted in nature's green, with tawny cliffs that plunge dramatically into the sapphire sea below, Capri's scenes are a sumptuous feast for the senses.
But the island's verdant beauty is not its only charm. Sharp sea air, cascading light, electrifying visuals, and the harmonious dance of flora and fauna all sing in chorus to strum the chords of the wild adventurer's heart. There's more to Capri, though, than meets the eye. Ignore, if you can, the shimmering ocean vistas. Leave exploring the towering cliffs, which hide secrets within their rocky grasp, for another day. For now, let's journey deeper. See her through the sun-dappled lens of daytime leisure. Yes, adventurer, we're guiding you off the beaten path and into the embrace of Capri's treasured beach clubs.
Capri beckons not only the intrepid explorer but also the sun-seeker, the weary traveler, the merry leisure-seeker, and those who find delight in life's simple, yet profound, pleasures. And what could be more pleasurable than lounging in the gentle Mediterranean sun, a cocktail in hand and a turquoise sea vista for company? Allow me to introduce you to the dazzling world of Capri's finest beach clubs, your soon-to-be favorite havens draped in the chic glamour of the Italian Riviera.
As your loyal guide, I'll usher you through the elegantly carved gates of marvels like La Fontelina and Da Luigi ai Faraglioni. Let me unravel the magic of these treasured locales, the sunlit courtyards, the secretive niches, and the sublime beauty etched within each beach club's soul. Our exploration extends to clubs teeming with flavor and local charm, like Faro Di Punta Carena, and bustling spaces steeped in Roman history, like Bagni di Tiberio. Then we can delight in the crystalline waters and exceptional service of Le Ondine Beach Club.
Each beach club we visit promises unique narratives, whispered secrets in the sea breeze, and myriad experiences that will add luster to your memories of Capri. These sundrenched locales, charming and vivacious, echo with the laughter of fellow adventurers, writes history with every sunset, and await your unique imprint on their golden shores.
So lace up those sandals, adventurer, ready your sun hat, and prepare to embark on a Capri journey unlike any other. Your sun-kissed paradise awaits. Let's explore together, shall we?
The Quest for Capri's Beach Club Treasures: The Search for the Best Beach Clubs in Capri
Pull on your sun hat, adventurers! Our journey through Capri now takes a delightful turn, plunging us into the heart of the island's lively pulse – her renowned beach clubs. Like sun-kissed jewels scattered across the island's shoreline, these coastal havens elevate any journey to Capri from a mere visit to an unforgettable story, each chapter more thrilling than the last.
Embarking on a Serene Seafront Expedition
Capri's beach clubs stand as unique narrators, each recounting their own tale of island life under the Mediterranean sun. Vicariously living these tales is the very core of our quest – a search for the best beach clubs woven into the soul of Capri. But why, you ask, do these sun-drenched paradises hold such an unforgettable place in a Capri escapade?
Enriching an Authentic Capri Sojourn
Embroidered into the cultural tapestry of Capri life, these beach clubs aren't merely destinations, they are experiences, steeped in history and local charm. Consider them vibrant social outposts set amidst the lulling rhythm of azure seas. Here, you're not just an observer. You become an active participant in the Capri saga, interweaving your own story with the island's, warmed by the sun and cooled by salty sea breezes.
To immerse in Capri without bathing in the warmth of its beach clubs is like turning the pages of a compelling novel, but missing its heart-thrashing chapters. Picture this: The earthly pleasure of biting into a Caprese salad is amplified tenfold when your dining table offers panoramic views of the hypnotic Mediterranean. Or imagine, the ecstasy of diving into Capri's clear waters, crowned by a sun-soaked lounge at clubs like La Fontelina or Da Luigi ai Faraglioni.
These experiences, my fellow adventurers, are not embellishments. They are the essence of a vibrant Capri adventure. The beach clubs serve as home to these experiences, hence their importance in our pursuit resonates stronger than the allure of hidden caves or the lure of ancient ruins.
To seize the spirit of Capri, our quest leads us to its sunlit courts of leisure. So, sharpen your zest for exploration as we set forth on our mission. To find, to experience, and to rejoice in the captivating serenade of Capri's superior beach clubs. Through our journey together, the stories of the best beach clubs in Capri will not only unfurl but, with your presence, continue their enduring narrative.
Unveiling the Hidden Gems: Top 5 Beach Clubs in Capri
Prepare for a sensory carnival, my adventurous companions, as we lift the veil on the jewels of Capri's azure coastline. Here, set against an astonishing backdrop of Mother Nature's keep, lie the sublime beach clubs that define the Capri experience. Let's traverse the allure of the best beach clubs in Capri and extract their magic, one heartbeat at a time.
1. La Fontelina: The Aura of Electric Elegance
Meet La Fontelina, the epitome of Caprese elegance. Here, the whispering sea weaves glimmering patterns on the cliffs, revealing a panorama that can turn even the most stoic adventurer into a starry-eyed poet. La Fontelina, perched at the water's edge, exudes a radiant exclusivity that blends seamlessly with its natural charm.
Picture this: Soft sun loungers with panoramic views of the ocean that stretch until the curve of the earth.
Rekindle your palate's adventurous spirit with seaside dining, where local flavors pirouette under the azure Capri sky.
La Fontelina redefines the very essence of a beach club, creating an elite space of warmth amid the all-embracing Mediterranean sea.
2. Da Luigi ai Faraglioni: An Ode to Vintage Charm
Step into the heart of history with Da Luigi ai Faraglioni. This venerable establishment exudes a vintage charm, steeped in rich stories that each brick and timber beam whisper, each a testament to the club's long-standing rapport with the Island.
Set in the shadow of the stunning Faraglioni rock formations, Da Luigi offers an optimal stage to sunbathe and relish the masterful drama of nature.
Reminisce on tales of its illustrious past, while you explore beach-lounging, reimagined Da Luigi style.
3. Faro Di Punta Carena: The Genuine Capri Narrator
Faro Di Punta Carena's charisma grapples with a lighthouse's steadfast presence, and the local flavor permeates its very fabric. This charming club, steeped in Capri's soul, reaches out to adventurers, who appreciate an authentic resonance over storied luxury.
Revel in an authentic Caprese experience that comes without the hefty price tag. This lithe, less-frequented nook of Capri does wonders to rejuvenate your adventurous spirit, without straining your pockets.
Gift your senses the experience of local charm, punctuated by views of the irresistible lighthouse standing guard over the dancing sea.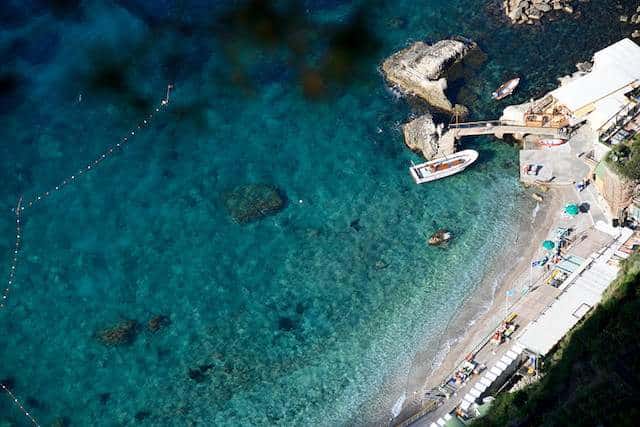 4. Bagni di Tiberio: Where Time Unfolds
Bagni di Tiberio beckons with echoes of a time where toga-clad Romans walked its grounds. This ancient beach club weaves its unique atmosphere from rich Roman history, which leaves an indelible imprint on your Capri adventure.
Nestled in a secluded beach cove, Bagni di Tiberio presents crystalline blue waters that tickle your toes as they lap the sandy shore.
Time slows down in this charming nook of Capri, where every moment unfolds into a lasting memory.
Together, adventurers, let us plunge deeper into the chroma of Capri's finest beach clubs, richly steeped in stories and waiting to craft new ones with us. The epic tale of Capri is incomplete without their mention, much like our own narrative of Capri.
5. Le Ondine Beach Club: An Array of Oceanic Delights
Ah, Le Ondine! A beach club that stands proudly as the pulse of Capri's coastline, reverberating with the exuberance of its patrons. Its incredible popularity is a testament to its picture-perfect natural landscape and the sparkling blue cloak of Capri's waters that enshroud it.
Surrender yourself to the soothing lull of the crystal-clear waters, a nod to the Mediterranean's magnificence, and one of the many reasons Le Ondine enjoys its star-status.
At Le Ondine, service is not just a duty, but a plea to amplify your adventure. You'll find the staff attending to your whims efficiently, almost telepathically.
For those with an adventurous spirit, indulge in a sweeping array of water activities. From leisurely floats on sun loungers to exhilarating jet-ski rides, these aqua excursions infuse an element of thrill to your serene sea sojourn.
Please pack up your adventure kits, explorers. Our revels in the sunshine parade of Capri's best beach clubs are far from reaching their twilight. Onwards, we now set our compass to the remaining gems. Steeped in the Mediterranean essence and wielding the hypnotic charm of seaside leisure, these coastal haunts promise a myriad of experiences, each unique, each enchanting, each waiting to be unraveled into a page of our grand Capri narrative.
Navigating the Shores of Capri: Your Compass for Beach Club Visits
Just as every successful adventure relies on a trustworthy map, let this seasoned explorer impart some wisdom on your seashore escapade in Capri.
Plan with the Sun: Morning dew or twilight hues, each offers its own unique experience. Mornings are ideal for invigorating dips; the evenings let you indulge in the symphony of sunsets.
Dress with the Tide: Comfort should be your mantra. Lightweight, beach-appropriate clothing is a go-to, but remember your sunhats and shades to shield you from the Mediterranean sun.
Book your Berth: To guarantee your place under Capri's sun, it's highly advisable to secure reservations at these popular beach clubs.
Adventure seekers, remember, why stop at one when a mosaic of experiences awaits your discovery? Embark on a journey across multiple beach clubs, each wave leading to a distinct encounter, a novel narrative to the mesmerizing tale of Capraia.
Capri's Coastal Symphony: The Beach Club Ensemble
Our journey, fellow wanderers, has led us through the heart of Capri's pulsating seaside life, a dance of ten nuanced yet harmonious melodies, each beach club sunbathing in its unique brilliance. From Le Ondine to Da Luigi, we've navigated the diverse vibes, services, views, and culinary treats of these coastal gems, unraveled their tales, and soaked in their essence.
But remember, these words are but echoes of the true symphony. Nothing compares to the raw beauty and awe-inspiring serenity that you shall experience standing on Capri's sun-kissed shores. So, let your spirit of discovery awaken and lead you on a journey through these captivating seaside wonders.
Heed the Call of Capri: Your Adventure Awaits
The shimmering horizon beckons, explorers. It's time to transform these words into memories and finalize your Capri expedition plans. Experience the pulsating heart of these beach clubs first hand, surrender to their charm and etch unforgettable narratives of your own!
And as you claim your share of Capri's radiant sunshine, we invite you to share your discoveries on social media, painting the digital world with your adventures. Tag our brand in your pictures, tales, and memories; let's celebrate the spirit of exploration, together. Remember, every shared story is another adventure inspiring someone, somewhere. Happy discoveries!