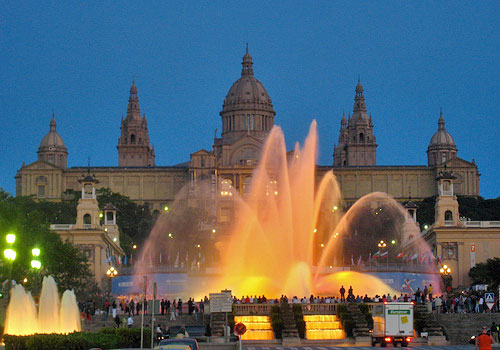 Spain is no doubt one of the hot spots to visit while planning a trip to Europe, and it doesn't take any smarts to see why. Amazing cultural experiences, exquisite art and architecture, incredible food, and beautiful beaches. Does one need anymore of a reason? While it could take days discussing everything that's a must-see, these top city destinations are a good start for anyone embarking on a trip to this major-European holiday destination. Grab your Thomas Cook flights and soon find yourself immersed in the wonderful Spanish vibes.
Barcelona
No surprises here for this being on the list. It could take you weeks to really see all that this magical city has to offer, but one of its main attractions is its magnificent architecture. Gaudi's work here has made its mark on this city and makes you feel like you're in another world. The perplexing looking SagrdaFamilia will amaze you, and when wander around Guell Park, you feel in a fantasyland. Gingerbread-looking houses scattered about and colorful tiles adorning benches, walls, and everything else, it's magical. The history, culture, and street life here blows away its visitors every time.
Seville
This is home to some of the most wonderful and interesting things Spain has to offer. The beautiful flamenco dance, dangerous bullfighting, and the incredible Moorish architecture that is showcased throughout the city making for an interesting visit. Wander around the alleyways and find the intriguing buildings and monuments. The Seville Cathedral is the largest church in Europe and third in the world. The late 1300 royal residence, the Real Alcazar, is very impressive to check out as well.
Valencia
The third largest city in the country and known for its liveness and spunk, is Valencia. While its neighbors might be known for the impressive historical buildings, Valencia, which having some of this, also showcases many modern buildings. The Ciutat de les Arts complex is one of these impressive futuristic collections of buildings. When you're done with the city life, beautiful beaches are only a stones throw away. If you're hungry, lucky for you, you happen to be in the birthplace of paella, so your dinner choice should be very easy.
Toledo
This is one of the melting pot cities that are in Spain. A mix of Jews, Christians, and Muslims, you will be sure to find plenty of interesting architecture and culture to relish in while you're wandering around this city. St. Thomas is the most popular churches of interest in Toledo, it's a stunning cathedral with magnificence monuments. This masterpiece is thanks to El Greco and it can be found set on the hill.
Madrid
There are so many reason why this city should be on your list of places to go. It's not only one of the fashion capitals, but known for its world-class museums. After wandering around the incredible shopping centers and admiring the true beautiful the city offers both in and outside museums, get ready for some of the best nightlife the country has to offer in the bustling squares.