You've seen the blockbuster films, and now you want to see the real Middle Earth! Peter Jackson built a multi-million dollar film franchise from J. R. R. Tolkien's novels the Lord of the Rings and the Hobbit using the spectacular scenery of New Zealand. The natural beauty of New Zealand's mountains, rivers, meadows and caves has made it a popular place for tourists and Tolkien-enthusiasts alike.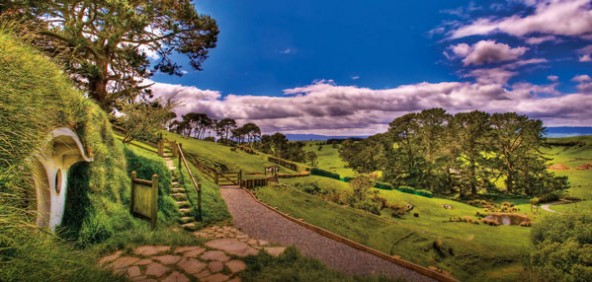 For a first-hand experience of the locations used to re-create Middle Earth, why not try a self-guided car trip? Pick up Ian Brodie's Lord of the Rings Guidebook for a comprehensive guide to the film and country. Or, just head out to some of the famously beautiful landmarks that were featured in the films. Take a drive around the Northern Islands starting in Waitomo where you can explore the underground caverns then on to Matamata, which served as the location for Hobbiton. See the little hobbit houses peeking out of the hillside and pet the sheep who have now made these props their homes. You won't want to miss Mount Ngauruhoe in Tongariro National Park. This is the actual Mount Doom seen in the films and, with its vast volcanic landscaped, the park became the perfect spot to build Mordor. Or head to the Remarkables mountain range, which were featured several times in the films, notably as the Misty Mountains. Enjoy the beautiful scenery on the way to Glenorchy where you'll find the fortress of Isengard.
If you would rather stay in one spot for a little while, perhaps consider some Tolkein-inspired accommodations? Minaret Lodge in Wanaka offers guests the true hobbit experience in their Barlimans – comfortable cottages with round doors and oversized furniture, complete with a custom "hobbit menu." Or get a room in Wellington, home of Peter Jackson and home base for the production crew for much of the filming. Head to the Weta Cave for Lord of the Rings souvenirs and stop in to see the weavers at Stansborough, who wove all the cloaks for the movies. About an hour out of Wellington you can visit the horses used in the films
For a fully comprehensive experience of New Zealand's Lord of the Rings locations book a tour with Southern Lakes Sightseeing. They have several prepared itineraries and can visit up to twenty film locations in one day. The tour is complete with over $15,000 in weapons, armor and costumes for guests who wish to recreate scenes and take pictures.