Europe is home to some of the greatest and most attended street festivals in the world, with people flocking to cities to celebrate art, literature, culture and music in their droves. Street festivals make for great entertainment for families, art enthusiasts and young party goers alike, and can also be incredibly culturally rewarding. Here are some of the best street festivals Europe has to offer.
Notting Hill Carnival, London
Arguably one of the most famous street festivals in the world, and the biggest street festival in Europe, London's annual Notting Hill Carnival is always one to remember, and is guaranteed to make many happy memories. Taking place every August Bank Holiday, the festival sees the capital forget all its worries and really let loose for an entire weekend, wreaking havoc on the upmarket and normally quiet West London Notting Hill district in a celebration of life, music and culture. The Caribbean carnival, consisting of floats, loud sound systems, exciting cutting edge DJs, alcohol and eclectic food stalls, sees not only half of London take to the streets but also attracts millions of tourists from overseas who are keen to observe the madness and join the party.
Distortion, Copenhagen
Taking place in Denmark's capital of Copenhagen at the beginning of June, Distortion is a weeklong street festival and party that needs to be seen to be believed. There are few sights more astounding and few experiences as exciting as this to be had, with an estimated 90,000 people taking part in the seemingly endless rave. This is a celebration of club life, partying and music, and gets pretty wild, with dancing, flash mobs, loud music and drinks flowing in abundance, though there is something for everyone, not just the youthful, high on life ravers. If you are planning on going on a 72 hour bender, it could be worth checking your travel insurance policy before heading out to make sure you are covered for any loses or injuries.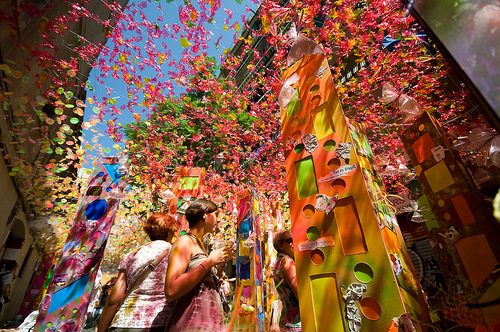 Festa Major de Gràcia, Barcelona
Around one and a half million people head to Barcelona in August for the Festa Major de Gràcia, a free street festival taking place in the height of summer. Everyone knows that the people of Barcelona know how to party, but you haven't seen Spaniards really get wild till you attend this explosive festival that combines partying with a celebration of culture, art and music, with exhibitions, live performances and family entertainment on offer as well as more than enough crazy to keep the enthusiastic ravers busy. It is a street festival full of surprises and unexpected events, and literally anything can happen. This is a great opportunity to truly immerse yourself in Spanish culture and enjoy the spirit of Barcelona.