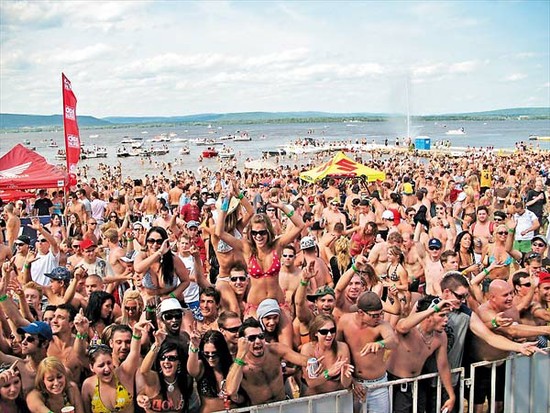 Everyone loves a music festival despite most of them ending in a downpour. So it should come as no surprise that beach-based music festivals are becoming ever more popular. The guarantee of glorious sunshine, brilliant music and soft sand to dance to your heart's content makes beach-based festivals fantastic. Below are some of the best.
Benicassim, Spain
Every second Monday of July thousands flock to the Spanish town of Benicassim to enjoy the Festival Internacional de Benicassim. More than 50,000 in all make the trip and it's not hard to see why. The festival is in close proximity to numerous beaches, most of which people camp on, which is awesome in itself. Then there is the music. This year's offing include The Libertines, Kasabian and Paolo Nutini. The festival attracts so many big names that there is actually a betting market on who is going to headline. Another big perk to the festival is the time the bands play, the music runs from 5pm to 8am so you either have to go hard or go home. Beni, as it is referred to, is the Glastonbury of beach festivals.
Hideout, Croatia
Located on Zrce Beach on the island of Pag, Hideout Festival is quickly becoming one of the most popular festivals in Europe. With the clear blue Adriatic Sea lapping at your feet not only is it picturesque but a morning dip also works as a fantastic hangover cure. Music wise the festival has the uber-cool Chic, Disclosure and London Grammar all performing. It is a festival where the music has no real set location. Fancying partying on a boat listening to some of Europe's best DJ's? Well that is just an afternoon at Hideout. The lack of the Euro is also splendid. The exchange rate from Pound Sterling to a Croatia Kuna is 9.49 Kuna to the Pound, making the festival extremely affordable as well as awesome.
Exit, Serbia
Have you ever wondered what it would be like to party in an 18th century Fortress? Probably not but now that you have heard that, you probably will want to, enter Exit Festival. The Serbian festival is just eight days of nuts! The main festival takes place in the Petrovaradin Fortress which is situated on the River Danube, which has an array of water-sports to undertake whilst waiting for the music to start. There are numerous stages located around the fortress, all of which are trippy as hell. This year you can belt out "I Will Survive" with Gloria Gaynor at Exit and see the king of cool, Jay Kay and Jamiroquai at the Sea Dance Festival. This is a festival for 24hour party people and if you are planning on going make sure you have tickets for the festival in its entirety. You will feel rough at its conclusion but you will have memories that will last a lifetime.