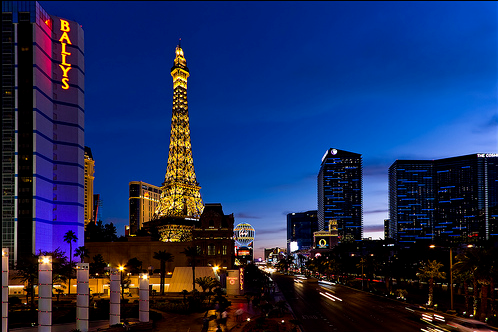 by  szeke 
Many travelers love a different experience in life and Las Vegas is certainly unique. Of course, you can some to the city and take a look at the biggest and most famous casinos, take in a few shows, have a gamble here and there – and generally soak up the atmosphere. You may even come for a big boxing bout, or some other big sporting event.
You may also decide to take a spin out to see the Mojave Desert, the Hoover Dam and of course the Grand Canyon – all of which are within striking distance (though be prepared for a long drive if you're doing the Grand Canyon on one day's round trip).
On the other hand, an increasing number of visitors come here on more of a tongue in cheek basis – soaking up the rich supply of kitsch that Las Vegas has by the lorry-load. You'll see it all ere; some of the world's most enormous people playing slot machines for hours on end. You'll see some of the most clichéd shows you can catch anywhere on the planet – the pinnacle used to be Siegfried and Roy, but these days you'll just have to see what's on offer. And don't worry – you will not be able to avoid the ads everywhere. And wherever you go, you'll do well to avoid hearing Elvis Presley's "Viva Las Vegas" for any more than 30 minutes at a time.
Then, of course, there are those monuments to opulence and naff styling – the casinos and hotels themselves. These are a rich source of kitsch for lovers of all that is awful about Las Vegas and American culture – all neatly situated along the strip.
So, for example, this fun list of Vegas casinos takes an in-depth look at the plushest suites in the city some call the "Capital of Second Chances"; Las Vegas. And you know that if they're the most opulent Vegas has to offer – then, by default, they're some of the most luxurious suites in the world. After all few, if any, cities manage to lay on the luxury like they do here.
Perhaps Vegas is so far out these days that it's right in? Anyway, you'll love seeing the Hardwood Suite at the Palms Resort, for example, if you can. This is a 10,000 square foot suite, which includes half a basketball court, complete with a scoreboard and player's locker room! The hotel will even supply a few cheerleaders. If you've had a big win and feel like splashing the cash, these girls will set you back a mere $25,000 a night. There's also a pool table, full Jacuzzi, a bar, endless enormous flat screen TVs and a 24-hour butler service. So really – how kitsch can you get?
Alternatively, how about a night at the Chairman's Suite at the Venetian Hotel? This will cost you just $15k for the night; a snip considering that you get karaoke rooms, a sauna, gym, private entrance, marbled floors and oh so much more! What could any normal irony-loving traveler want?
There are two ways to take Vegas, seriously or tongue in cheek; so which will it be for you? Ether way, you have to come here at least once in your life – because seeing is disbelieving!