Technically a US territory, Puerto Rico is not just a home away from home for US citizens it's a completely different Caribbean world. Known for a long history, including several historical monuments to visit, Puerto Rico has a unique culture that visitors enjoy exploring. This culture is combined with great views over the Atlantic Ocean and a great beach life that is enjoyed year round. Things to do in Puerto Rico include:
El Morro
501 Norzagaray St | San Juan
El Morro is a massive naval fortress that juts out of San Juan habour. This six story fortress was built in the mid 16th century to deter attacks from the sea. In its history El Morro has withstood several attacks, including during both World Wars, but now has retired from active service as a naval fortification and has become Puerto Rico's main tourist draw. Not only does El Morro offer great vista views over the Atlantic it also has a network of tunnels, barracks, and even prison cells for visitors to explore. Most part of El Morro are open to the public and exploration of the massive site can be done at visitors leisure. Admission into EL Morro is just $ 5 dollars US.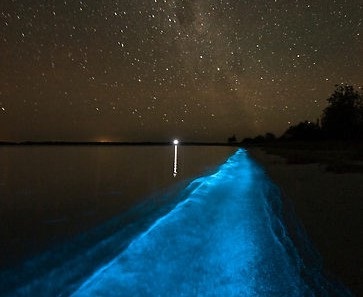 Mosquito Bay
 Visitors to Puerto Rico often recount their experience at Mosquito Bay as one of their favourites. This south Viques Beach might not sound like that much till one takes into account its unique attribute of literally glowing at night. Thanks to the 700,000 bioluminescent dinoflagellates in each gallon of bay water, the water in Mosquito Bay glows in the darkness providing a once in a life time swimming or boating experience. Access to the bay is free so check Mosquito Bay's official web site to find out the best times to enjoy its illuminating qualities.
Carolina Beach
Rt 187 | Carolina
Carolina Beach is one of Puerto Rico's most popular public beaches. Though Carolina beach can be crowded visitors still do adore its white sand beaches and warm water. Also, there is always a life guard on duty while the beach is officially open from 8 am until 6 pm ensuring beach safety. Visiting the beach is free, but if you bring a car there will be a $2 dollar parking fee charged.