A befitting tribute to the many trials and tribulations that America has suffered and grown from are the varied monuments of Washington. Lovers of history, or those that just want to connect themselves more to their country, will enjoy wandering around the National Mall and the many varied museums and monuments that are nearby to it. A trip to Washington brings forward all the pageantry and history that the United States has to offer.
To see these monuments in person, know what you need before you travel. For instance, certain European citizens may require a visum usa-ESTA (Electronic System for Travel Authorization).  Ready to explore American history? A few of the memorials in the nation's capital include.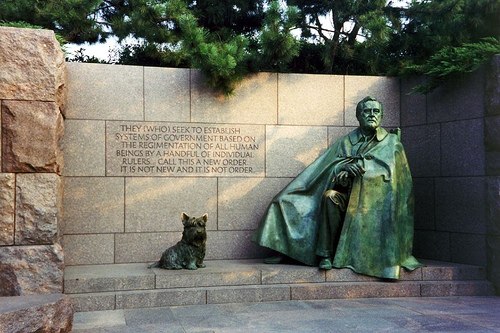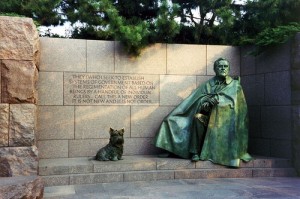 Franklin Delano Roosevelt Memorial 
Ohio Drive SW | Washington DC
 The Franklin Delano Roosevelt Memorial is Washington's largest memorial. Inside are statues of Franklin himself, Eleanor Roosevelt, Franklin's trusted Scottish Terrier Fala, reflecting pools, waterfalls, and a line of unemployed Americans. Of course the latter, signified all that Roosevelt did, with his new deal, to help disadvantaged Americans and form the nation's first welfare system.  Starting from the West side of the memorial visitors are taken through a retrospective of FDR's time within the White House. Coming to see this FDR memorial will certainly give a greater appreciate of this great man and the times that he lived in.
 United States Holocaust Memorial Museum 
100 Raoul Wallenberg Plaza SW | Washington DC
A very sobering memorial and museum visitors will have to be in the right frame of mind to take in Holocaust Memorial Museum's harrowing exhibits and reminders of World War II atrocities. Exhibits in the museum include Hitler's Rise to Power, the horrors of the Final Solution, and examples of anti Semitic propaganda. A unique element of the museum is that all visitors are given an identification card of a real person who experienced the holocaust when they enter. Throughout visitors stay at the memorial they are given updates as to the well being of the person whose card they hold. The Holocaust museum is free and is located at the southern tip of the national mall.
Jefferson Memorial 
South of the Washington Monument on Ohio Dr. | Washington
One of America's most beloved presidents was the southern gentle man and intellectual president Thomas Jefferson. One of the founding father's Jefferson was known for his role as an American Revolutionary leader and one of the nation's first presidents. His memorial is situated in the extremely picturesque Tidal Basin – which especially during the cherry blossom season is lovely. There is an exhibit nearby to the memorial that allows visitors to learn more about Thomas Jefferson's life.