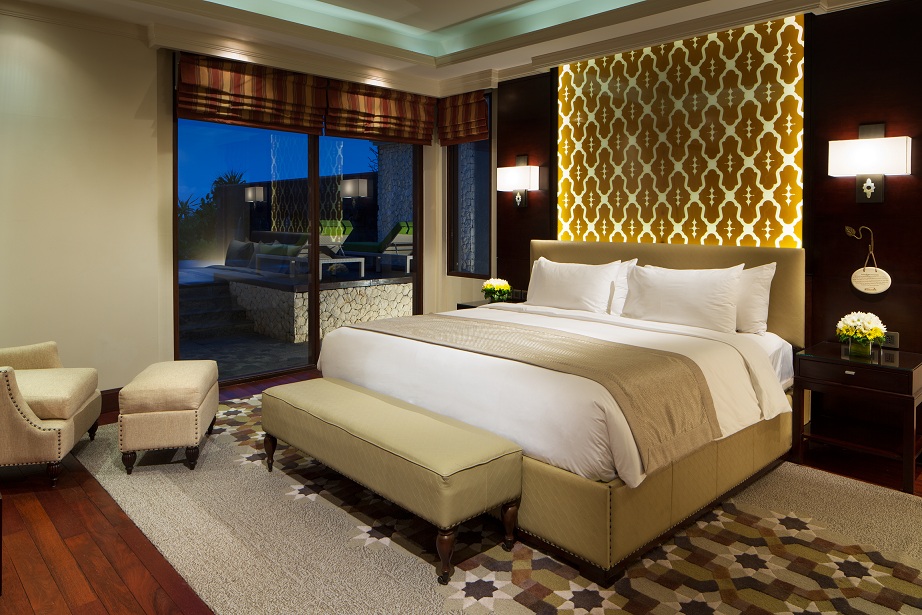 Upon our arrival in Denpasar Airport, we were quickly escorted through customs, avoiding the long queues. The "fast track" is one of the additional great services of being a guest at Samabe Bali Suites and Villas. We were then promptly shown to our limo. A couple of refreshing cold towels on the way to the resort were very welcome after our long flight. In less than half an hour we reached our destination Samabe, the Bali all inclusive retreat in Nusa Dua.
We were shown to our suite and I must say, the view was absolutely breathtaking. Samabe is positioned on top of a cliff and it definitely takes full advantage of its location. The Indian Ocean panorama looked even more amazing than in the pictures on their website. The room was large and comfortable, very well appointed with all the amenities you'd expect in a five Star resort, but what topped things off for us was a telescope in the room. We could do some star gazing at night! And another thing, the outstanding feature in the bathroom was the bath tub overlooking the ocean through a huge glass window. We could enjoy the wonderful view while having a romantic bath. How great is that?!
The resort staff were fantastic, starting with the receptionists and our butler, through to the bar and the restaurant attendants. Lovely people with great smiles, extremely dedicated to customer service and proud of their work, they were determined to make our stay most enjoyable. Our butler was really attentive, he knew our schedule and all our arrangements. He unpacked our bags on arrival and packed them back up on the day of our check out. He even polished my shoes! If you speak to the staff prior to your trip and inform them of your preferences, they will happily cater for all your specific needs, including any dietary requirements.
A great thing about Samabe is that all the non-alcoholic drinks are free, as well as daily fruit platter and your mini bar replenishment. And no matter where you are in the resort, you can order your drinks anytime. I loved having my coconut drink after a swim in Samabe's magnificent infinity pool, while enjoying the view and free foot massage thanks to the staff from the resort's Galangal Spa. Water sports equipment hire, like kayaks, snorkeling gear, windsurfing boards and catamarans, is also free, so you can always have some fun on the private beach. But if you just want to relax and have a swim in the ocean, the water is very calm, as the waves break a bit further off shore.
The resort offers a wide variety of activities for you to have fun and experience Balinese culture at the same time. Whether you want to learn some Balinese cooking or dress up in traditional costumes, or maybe try your hand at batik painting, a lot of these activities take place at Samabe. But you may also want to wonder away from the resort and visit all the places you've heard about and seen on the postcards. We thoroughly enjoyed Uluwatu Temple and the sunset tour of the famous Tanah Lot. All Samabe Signature Activities are free with the all-inclusive package, so you just need to make a choice what you want to do on any given day.
The all-inclusive "Unlimited Privileges" package gives you so much extra. Apart from the Signature Activities, it also includes all your meals, alcoholic drinks from 5pm till midnight, unlimited laundry service, late checkout (you don't need to rush in the morning of your departure), and more. It's very much worth opting for and I do recommend it, especially if you plan a longer vacation. So, next time you want to visit Bali, discover for yourself all that Samabe has to offer.