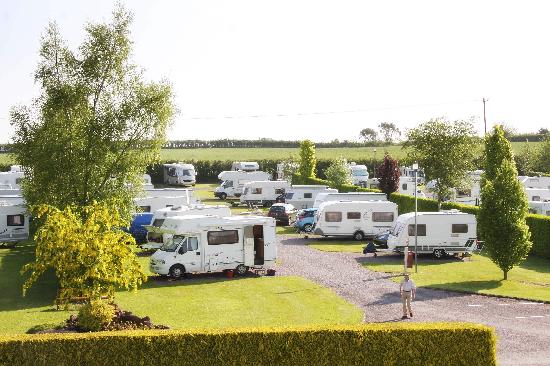 Caravan camping is probably the best way to discover yourself amidst the serene surroundings of Mother Nature and actually enjoy the bliss staying connected. The rustling sound of the leaves, fresh air, abundance of activities, and yet enjoying all your regular luxuries have become possible with ONLY caravan camping! UK is one of the most happening places for caravan camping and you can get the best reviews and updates of such adventures at Belfast news portals. Here we enlist for you some of the best caravan camping sites in UK that have not only gained immense popularity but also owns a prestigious ranking in the competition of world class camping sites –
Drumroamin Farm Camping and Caravan Site – This is a privately owned, friendly and serene camping site that is run by a hospitable family. The field offered for camping is open-levelled and well-drained. The pristine views of Wigtown Bay and the backdrop of overwhelming hills are all what you can see around. The site is considered to be an ideal spot for honeymooner, people who yearn for bird watching and many more outdoor activities. You get state of art facilities in this camping site; the toilet is heated and fitted with all modern equipment. It also has a separate shower room and toilet block. There are two dishwasher machines, dryers and large freezers, where you can keep your ice in an ice crate with your name labelled. The indoor playroom is the sitting area with TV, DVD players and numerous book. If you have hired caravans and boats; you also get a secured lock up area to keep them safely. Mobile phone connectivity is available throughout.
Wheal Rodney Holiday Park – If you take your caravan along the green country lane, you would reach the Wheal Rodney Holiday Park, which is a family-run caravan camping park sited at about a mile away from Marazion and St Michael's Mount. Most of the adventurists lodge here and explore the surrounding attractions of west Cornwall like the Land's End, the Lizard Peninsula, and Penzance. This caravan site is considered to be the best one for kids of all age as you are very close to Helston and Flambards Theme Park, and Isles of Scilly. This site is mainly a family camping site, pet friendly and affluent with all appliances. Separate shower blocks with hot water flow, swimming pool, phone and gadget charging, launderette etc. The attraction for most is the Fire Engine Inn offering a deliciously tempting and tasty menu. The beer garden is a surprise for you as well!
Cottage Farm Touring Park – Enveloped in the Treworgans, this undulating caravan camping site is well protected by fences and hedges around. The countryside views are the best visual treat you get here. The shower blocks has hot water availability, baby changing units, separate zones for washing, and ladies shower points have hair dryers, while the men ones have shaving points. You also have laundry rooms, recycling zones, waste water storage for re-use purpose, and other facilities that assure you a comfortable living. This is a pet friendly sites but you need to keep your pet in control. Families and couples are only allowed here.
Caravan camping is one of the most adventurous ways of enjoying with your family; but keeping safety measures in head is equally essential. When you hire a caravan, make sure you have a thorough knowhow about the vehicle and also how to handle it during emergencies. Caravan Insurance is a must when you are going for camping with a caravan; although touring caravan insurance is not mandatory, but still a insurance will ensure safety in case the caravan is lost, looted or it faces other man made risks. Go ahead and have a tension free caravan touring with your family this weekend.