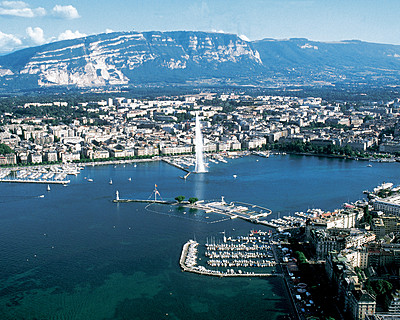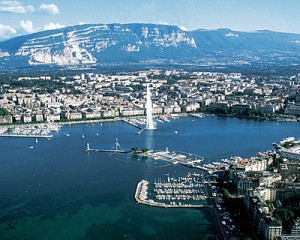 If your travels bring you to the mountainous nation of Switzerland and to one of its central hubs Geneva, you would certainly want to know how to spend your time right? The international reputation of the Swiss is as shrewd bankers and cities like Geneva display this in terms of the clean, pristine streets and beautiful monuments. Geneva also provides easy proximity to fantastic skiing in the French Alps and wonderful beach side culture at nearby Lake Geneva. For those that love shopping and people watching a trip to Place du Bourg-de-Four will fill your need. Things to do in Geneva include:
Lake Geneva
Right at the French/ Swiss border and just to the North of Geneva is Lake Geneva. Long a popular vacation spot, the lake has drawn celebrities – Charlie Chaplin, Sophie Loren, and Audrey Hepburn – and the wealthy for years. In recent times the elitist edge has faded somewhat and it is now a spot enjoyed by all. Near to the lakes balmy shores are several hotels, restaurants, shops, and bars. There are also nearby vineyards and wineries in nearby Lausanne on the lake's northern shore. Also nearby, and perhaps more relaxing are the beaches and thermal baths of Yverdon-les-Bains. History lovers enjoy heading to Montreux which has Château de Chillon a fairy tale like castle.  There are frequent bus and train transport from Geneva to Lake Geneva.
Reformation Wall
Parc des Bastions | Geneva
A major historical and religious site is Reformation wall which commemorates the Reformation of the Christianity in the 17th century. A 300 foot wall that is decorated in various carvings and with statues of Reformation leaders in Geneva such as Guillaume Farel, Jean Calvin, Théodore de Bèze and John Knox it is impressive and imposing. Other Reformation leaders such as Roger Williams and Martin Luther also have statues located nearby. Scrawled across the wall as well is the Reformation and Geneva's motto: Post Tenebras Lux ("After Darkness, Light"). Being near the wall highlights Geneva's religious past and shows people why it was once called the "Protestant Rome" for its efforts to expand concepts of what Christianity is.
English Garden
A welcome escape from the cosmopolitan trappings of Geneva is to spend some time in the English Gardens. Just a few blocks from the old town the English Gardens offer a fantastic view over Lake Geneva. The main attraction of the Garden however is the Flower Clock, an actual functioning clock, made from 6,000 different types of flowers. Each year the design is changed. A crowded spot, travelers recommend coming to the English Garden earlier in the morning or in the evening.