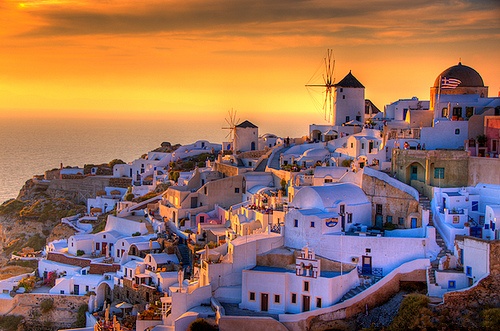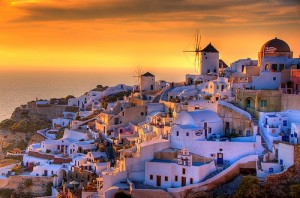 Situated in the heart of Mediterranean Sea, Santorini has long been seen as the must visit destination of the Greek Islands. Filled with picturesque beaches, beautiful sunsets, awe inspiring cliffs with vista sea views and sailing excursions that will showcase the wondrous beauty of the caldera bay Santorini is a joy to the senses. Also filled with wineries and varied historical sites there is more to do in Sanotorini than just enjoy nature and the warm weather. A few things to do in Sanorini include:
Ancient Thira
Ancient Thira is the main historical attraction of Santorini. Originally settled by the Dorians of the 9th century B.C. Thira has ruins from the Hellenistic, Roman and Byzantine eras. A wander along what was once  the main street of Ancient Thira will lead you past old mosaic houses, Roman baths, and the remains of what was previously an ancient market place. Don't forget to partake in the wonderful views from the Terrace of the Festivals, which was once a place of great religious significance and the site of ceremonies that honoured the Greek god Apollo. Ancient Thira is open Tuesday through Sunday from 8:30 am to 3 pm and admission is around $5 US dollars.
Amoudi Bay
The most stunning views to be had on Santorini are overlooking the caldera bay in the tiny port town of Amoudi Bay. Surrounded by steep cliffs, that offset the beauty of the bay with their imposing aesthetic, Amoudi Bay has long been a place for visitors to Santorini to enjoy a meal and watch the sun set. People who have traveled to Santorini previously note this location as the best for views on an island that is reputed for wonderful views. While in the bay, also be sure to sample some of the delicious fresh fish on the menu in many of its restaurants.
Kamari Beach
The volcanic history of Santorini has led to some of the Greek Isles most lovely and unique beaches – Kamari Beach more so than any other exudes this. The black sands of Kamari create a unique aesthetic as contrasted to the crystal blue waters that run along them when the tide is high. Nearby to the beach is Kamari, the islands most developed resort area. In Kamari you will find shops, beachside bars, hotels and restaurants. Perhaps a little crowded, especially in peak season, still Kamari Beach must be enjoyed while on Santorini.